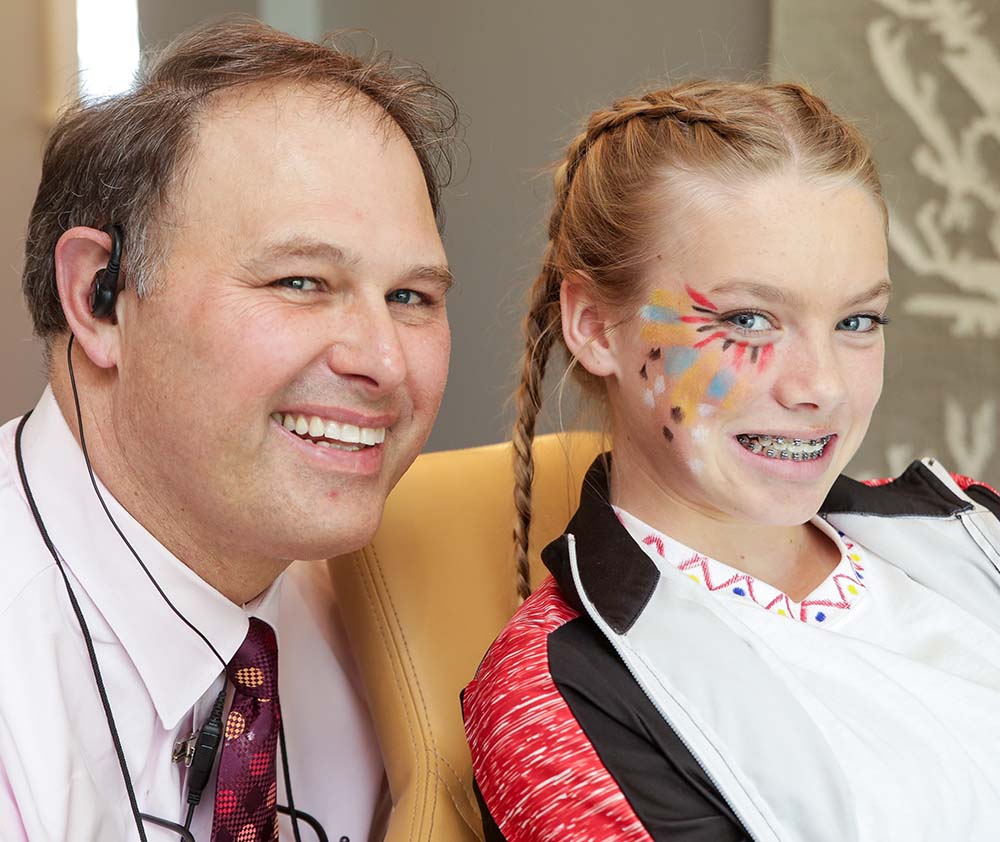 At Frigo Orthodontics, we understand that orthodontic treatment can be both empowering and life-changing. It's not just about straightening teeth; it's also about building self-confidence and promoting healthy futures. Our industry-leading techniques and cutting-edge technology help us to deliver exceptional care to patients of all ages and diagnoses, especially teenagers.
What is teen orthodontics? 
Many teenagers in the United States undergo some form of orthodontic treatment, and there are good reasons for it. According to the American Association of Orthodontics, nearly half of the world's population could benefit from orthodontic treatment. Adolescence is an ideal time to address orthodontic issues, since jaw bones are softer and more permeable at this stage in a person's development. This allows teeth to move faster with less pain. By starting orthodontics in their early teen years, your child will reap the benefits throughout their life. 
When should my teen see an orthodontist?
While we do recommend bringing in your child for pre-orthodontic care as early as the age of seven, teen orthodontics is also highly effective. Most commonly, teens start to see an orthodontist between the ages of 12 to 13, when nearly all permanent teeth have grown in. At this stage, bone and jaw structures have sufficiently formed, allowing orthodontic treatment to begin while still being responsive to movement.
If your teenager has crooked, crowded, or gapped teeth, they may feel self-conscious and even avoid smiling. As they are coming into adulthood, the last thing they need is to worry about their appearance and what others think of them. Misaligned teeth can hurt your teen's confidence and negatively impact their future. If you notice any of the following issues, please reach out to schedule a consultation:
Difficulty chewing or biting
Shifting or noisy jaws
Protruding or overcrowded teeth
Excessive space between teeth
Refusing to smile or covering their mouth
Challenges with flossing or brushing due to crowding
After all, the best time to invest in your teenager's future is now. 
Benefits of orthodontics for teens
The teenage years are an optimal time for orthodontic treatment. It's easier to reposition teeth and jaws while they're still growing, and addressing orthodontic concerns early can prevent more complex issues later on. Orthodontics for teens not only leads to a lifetime of happier, more self-confident smiles, but also promotes better oral and physical health. Some of the benefits of addressing orthodontics for teens include:
Improved speech and breathing patterns
Quicker treatment time than older patients
Reduced need for pulling teeth
Increased self-confidence
Restored sleep
Enhanced facial aesthetics and symmetry
Preserved tooth health and
Minimized damage to crooked teeth
Braces for teens
Braces are trusted as one of the most efficient, cost-effective orthodontic treatments for patients of all ages. Braces for teens help to transform your child's smile and improve their confidence. Whether your teenager needs to correct a gap or severe overcrowding, braces are an incredibly popular option. 
In addition to traditional braces, we offer the state-of-the-art Damon System, which helps your child achieve a more flattering smile in record time. We also offer lingual braces, which face inward and are invisible, as well as clear aligners for more self-disciplined teens. Another possibility is ceramic braces, which use tooth-colored brackets. Functioning similarly to metal brackets, these are an excellent choice for teens who want less noticeable braces. Whether you are interested in braces for teens or another teen orthodontic treatment, we are dedicated to exceeding your standards and providing a wide range of options that cater to your teens orthodontic and cosmetic needs. 
Now is the time to invest in your teen's future. To discuss teen orthodontic treatment options, contact us for a consultation. We will be here for you and your teenager every step of the way. At Frigo Orthodontics, our compassionate team is here to ensure that your teenager smiles confidently for years to come.