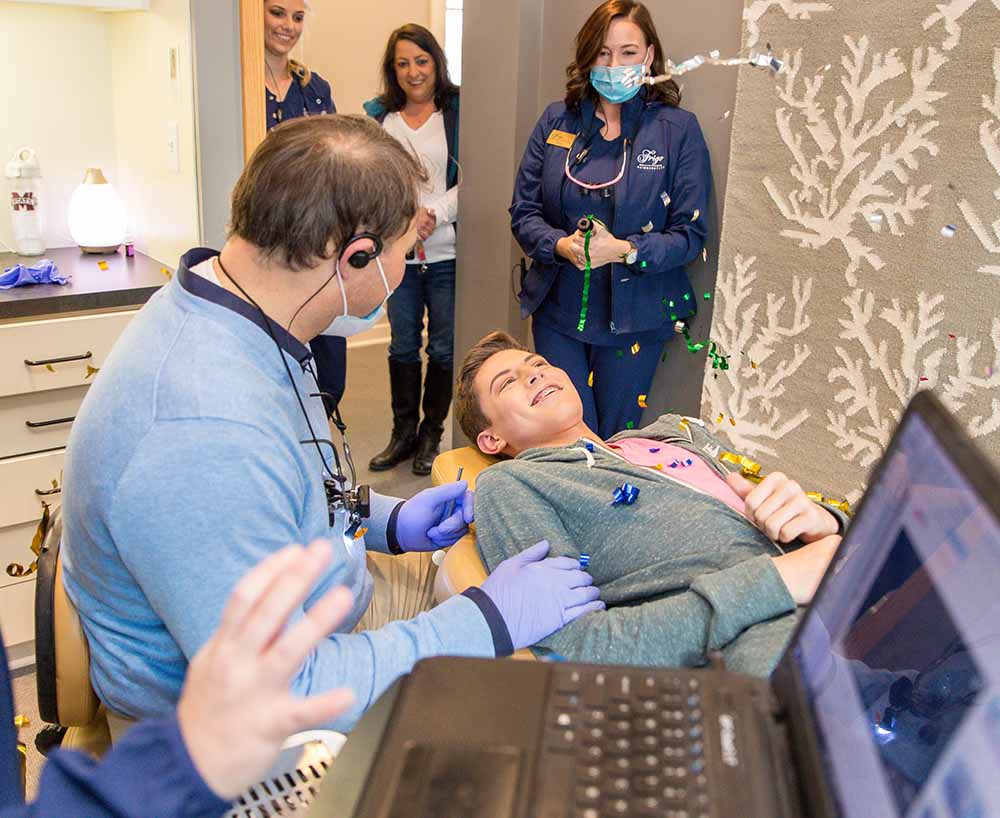 Orthodontic FAQs
We know that the practice of orthodontics can sometimes seem complex or confusing. At Frigo Orthodontics, we want you to know what is going on throughout your treatment. We are always happy to share our knowledge and answer any questions. Here are answers to some of our most frequently asked questions about orthodontics.
What is orthodontics?
Also known as dentofacial orthopedics, orthodontics is a form of dentistry. This specialized practice is dedicated to diagnosing, preventing, and treating dental and facial abnormalities. Most commonly, orthodontics is known for straightening teeth.
Who is an orthodontist?
An orthodontist is a dental specialist with advanced training in orthodontics. They have completed at least two additional years of graduate training in an accredited program after dental school. With their expertise in designing, applying, and controlling corrective appliances, orthodontists ensure optimal facial balance by aligning teeth and jaws.
When should my child see an orthodontist?
The American Association of Orthodontists recommends that an orthodontist evaluate children by age seven. Early detection of orthodontic problems allows for timely corrective actions, potentially avoiding more complex treatments in the future. We are proud to offer a thorough early intervention program.
Does my child need orthodontic treatment?
Over half of children could benefit from orthodontic treatment. Aside from the obvious signs like crooked teeth, gaps, and overlapping, your child may need treatment if they hide their teeth, lisp, or have trouble chewing. We recommend that you bring your child in for a consultation to see if they could benefit from orthodontics. 
What are braces?
Braces come in various types, including clear, ceramic, lingual, self-ligating, and traditional metal braces. Brackets are placed on each tooth, with an archwire running through the brackets– usually affixed with tiny rubber bands. At Frigo Orthodontics, we recommend the Damon System for its precision and efficiency. All these treatments help align the teeth and fix any bite issues, overcrowding, or gaps you may be experiencing. After braces, the look and feel of your smile will drastically improve.
Can adults get braces?
Adult orthodontics is absolutely possible; approximately 40% of our patients are adults. Age is not a barrier to getting braces or other orthodontic treatments. As long as the gums and the bone supporting the teeth are healthy, orthodontic treatment can be effective at any age.
Can I have braces with missing teeth?
Yes, you can still get braces if you have missing teeth. Orthodontic treatment will correct and prevent issues caused by teeth drifting into empty spaces. With our advanced technology, we can also help you to close gaps in your teeth without the need for implants or bridges.
How do I care for my teeth with braces or retainers?
Maintaining oral hygiene with braces or retainers is vital for a natural, healthy smile. We recommend brushing within 30 minutes after eating or drinking anything sugary. We'll recommend fluoride toothpaste and rinse to protect against cavities. Be sure to floss every day. Regular dental checkups ensure your teeth stay clean and healthy throughout your orthodontic journey. We'll instruct you on keeping your retainers clean after removing your braces.  
How long do I have to wear braces?
The time spent in braces varies depending on several factors, such as the complexity of your case, the treatment you choose, and how closely you adhere to your plan. You may have to wear braces anywhere from six to 30 months, with most standard cases taking about 18 months.
Does orthodontic treatment hurt?
Modern orthodontic treatment is much more comfortable than in the past. While braces may cause some soreness for a few days, it is not painful. Over-the-counter pain relievers can alleviate any discomfort. With the high-quality materials and technology we use, such as the Damon System, we can reduce discomfort and time in the chair.
Can I still play sports during orthodontic treatment?
We want you to remain active, and getting braces or another treatment won't affect your lifestyle. Whether it's sports or school activities like playing in a band, you can go about your daily life as before. If you or your child plays contact sports, we recommend wearing a mouthguard– which we will customize in our in-house lab– to protect your braces.
How much does orthodontic care cost?
Orthodontic care varies according to each case and the treatment you choose. We accept most insurance providers and are happy to explore payment plans with you. Overall, orthodontic care may not cost as much as you think, and it is one of the best investments you'll ever make. If your young child needs treatment, we suggest early intervention, as it is more cost-effective than treating more severe problems in the future.
At Frigo Orthodontics, we are committed to providing exceptional orthodontic care tailored to your individual needs. Please let us know if you have any questions we still need to answer here. We are happy to discuss all aspects of orthodontic care with you. Schedule your consultation today, and let us help you achieve your best natural smile!