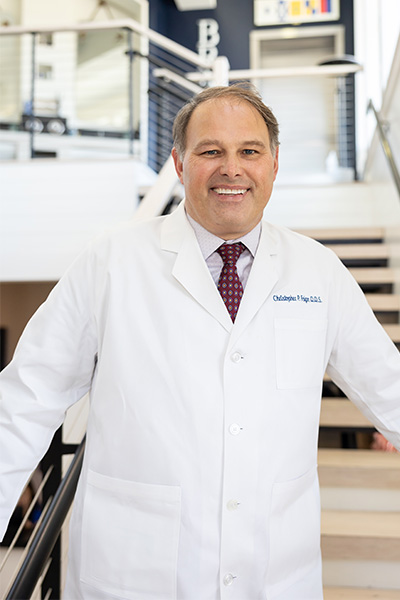 Dr. Christopher Frigo, DDS
Orthodontist
Dr. Christopher Frigo has been creating beautiful smiles for over twenty-five years. He has successfully treated over eight thousand patients employing a holistic orthodontic approach that focuses on delaying the natural aging process of the face by carefully avoiding the removal of teeth and restoring the loss of vertical facial dimension that occurs naturally with age-related wear of the dentition.
Dr. Frigo has literally traveled around the world to study under to tutelage of various Damon pioneers across the globe. Most notably, Dr. Chris Chang of Taiwan, an internationally acclaimed speaker, and professor of orthodontics from the University of Indiana, have revolutionized the orthodontic specialty with his innovative treatment mechanics.
Using the Damon 'Brace-Lift' system, Dr. Frigo has created subtle changes in the face that appear to reverse the natural aging process by enhancing the width of the smile while adding lip support to the corners of the mouth without the use of cumbersome palatal expanders, unsightly headgear, or jaw surgery.
In addition to his knowledge of the Damon system, having successfully treated over one thousand patients with the Invisalign aligner system has not only endeared Dr. Frigo with years of experience treating malocclusion with Invisalign aligners but, more importantly, the ability to discern between which patients are better suited for treatment with aligners from those best treated with the Damon braces system.
Dr. Frigo has been married to his college 'life coach' and the love of his life, Kerri Breland Frigo, for over thirty years. Together, they have four children-two girls and two boys. To replace the kids who have moved on to greener pastures in New York City, Dr. Frigo is attempting to learn to play classical guitar and fostered two loving dogs; Molly, a Bernie-Poo, and Murphy, a Labradoodle.