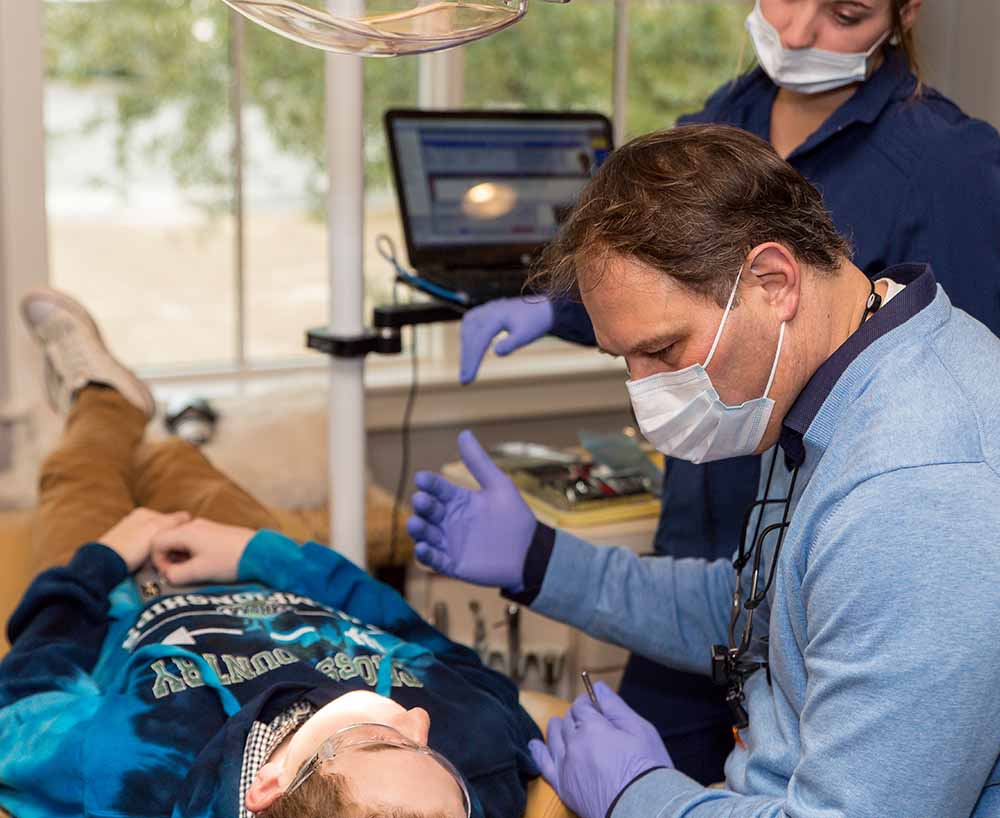 At Frigo Orthodontics, we combine an eclectic approach to orthodontics, where excellence meets compassionate care. We treat our patients with kindness and positivity, especially when it comes to complex procedures like jaw surgery. Unlike many orthodontists who insist on invasive procedures like jaw surgery, we prioritize non-surgical options whenever possible.
If an orthodontist has told you that you need jaw surgery before starting orthodontic treatment, please schedule a consultation with us. With our cutting-edge technology and techniques, we are able to avoid jaw surgery in the majority of our patients. For many– especially children– this possibility is life-changing.
What is corrective jaw surgery?
Corrective jaw surgery, also known as orthognathic surgery, is a specialized procedure used to treat severe jaw irregularities and facial deformities. It involves repositioning the jaws to improve function, bite alignment, and overall facial aesthetics. Many orthodontists require their patients to undergo jaw surgery, but at Frigo Orthodontics, our philosophy is to always explore non-surgical options. 
Do you need jaw surgery?
The thought of jaw surgery can be daunting and with good reason. Not only is this procedure highly invasive, the pain and recovery time are less than favorable. Even if 10 orthodontists have told you that you absolutely must undergo jaw surgery, we will do our utmost to avoid it. One of our orthodontists will carefully evaluate your situation to determine how to treat you in the most effective, and least invasive, way. 
In our practice, the answer to "Do you need jaw surgery?" is going to be an overwhelming "No."
Because we prioritize our patients' comfort and well being, all of our treatment plans are centered on the least invasive procedures possible. In most cases, jaw surgery is most likely unnecessary.
How much does jaw surgery cost?
The exact cost of jaw surgery can vary depending on various factors, like the complexity of your case. It is highly unlikely that we will recommend jaw surgery for you, but if this is the case, our knowledgeable team will guide you through all the financial aspects of your treatment. We are committed to providing transparent information regarding the cost of jaw surgery and will offer any financing options we may have. Jaw surgery can be expensive, and we want to empower you to make informed decisions about your orthodontic journey.
How long does jaw surgery recovery take?
Jaw surgery recovery time can vary. Depending on the extent of the procedure and how fast you normally heal, the initial phase of recovery may take between six to eight weeks or longer. However, for the jaws to completely heal, recovery can last up to a year. During your recovery period, especially at the beginning, it's common to experience swelling and discomfort. This is one of many reasons why we try to avoid jaw surgery. 
If your case is unique and there's no way around this invasive procedure, our caring team will provide thorough post-operative care instructions. In addition, we'll closely monitor your progress and guide you throughout the healing process to ensure a smooth and successful recovery. If you have to undergo jaw surgery, we aim to make your recovery as comfortable and quick as possible.
How do we avoid jaw surgery?
At Frigo Orthodontics, our primary goal is to provide exceptional orthodontic care while minimizing the need for invasive procedures like jaw surgery. Such treatments can be expensive, add to treatment time, and cause potential trauma. We therefore offer alternative, non-surgical options to most of our patients. 
We combine two of the world's latest developments in the orthodontic industry to avoid jaw surgery. The Damon Ultima System is the globe's most technologically advanced bracket system in the world, allowing our orthodontists to ensure ultimate precision when mapping out tooth placement. The second is Temporary Anchorage Devices (TADs), used by Taiwan's leading orthodontist, Chris Chang, which enables simultaneous movements of several teeth. With this blended approach, we are able to produce end results to look as if you had jaw surgery. 
Rare cases when jaw surgery is unavoidable
There may be rare cases where jaw surgery is necessary, such as when your lower jaw hasn't developed correctly or if you have severe facial deformities. However, our experienced orthodontists will thoroughly assess your condition and explore all available options before considering surgery. Our commitment to excellence and compassion means that we will always provide the most effective, comfortable treatment for your individual needs.
Non-invasive jaw surgery before and after
We encourage you to explore our jaw surgery before and after gallery, showcasing the remarkable transformations achieved through our expert non-surgical approaches. 
While some severe cases may require invasive treatments like double or corrective jaw surgery, rest assured that these instances are extremely rare. Every case is unique, and we will work diligently to provide the most effective treatment plan tailored to your individual needs. At Frigo Orthodontics, we always strive to achieve life-changing results without the need for invasive surgeries.
Contact us today to schedule a consultation and learn more about how we can enhance your beautiful smile naturally, without surgery.